Submitted by Q. Li on Thu, 14/05/2020 - 03:21
---
TAG members are working from home all around the world as most people are doing these days. However, this doesn't stop our positive attitude to our research and daily life!
Greetings from the group! We hope you are all doing well and slowly get used to the new life style. For most of us, we probably haven't been at home continuously for such a long time. It is the time to have fun (don't fight) with your families, and develop some new hobbies. 
We had to close our lab temporarily due to the outbreak of COVID19. I really wish to see you soon again, TeraPulse 4000. Though no experiments are arranged recently, we are still working on our research remotely, such as processing data, writing manuscripts, reading papers, and also learning some new skills online. Not only do we keep the group meetings on Monday mornings (with proper presentations), we also bring the CEB tea break online. Virtual version on Zoom!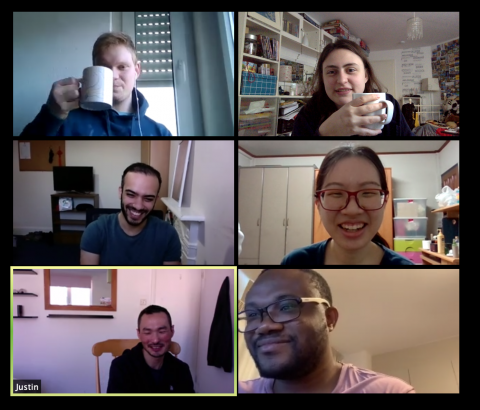 Axel introduced an innovated design of ventilators that might address the shortage of ventilators in Africa. The news has been released on China Daily. If you are interested in more details: 
https://www.chinadaily.com.cn/a/202004/25/WS5ea44ed3a310a8b241151943.html
Congratulations to Mohammed who published his paper, "Simultaneous investigation of the liquid transport and swelling performance during tablet disintegration". You can find it on the top of the Publication page.
We are happy to see that people are still making great progress and enjoying their lives under these circumstances. Looking forward to seeing more updates from everyone!