Department of Chemical Engineering
Magnetic Resonance Research Centre,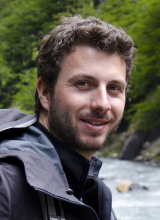 c/o Cavendish Stores,
JJ Thompson Avenue,
Cambridge,
CB3 0HE
Mail: dm733@cam.ac.uk
Biography 
Before I joined the Terahertz Applications Group I was scientist and scientific project leader at the Recearch Center Pharmaceutical Engineering (RCPE) GmbH (www.rcpe.at). The major part of my work focused on the development and application of an optical coherence tomography (OCT) sensor for the in-line monitoring of pharmaceutical coating processes (pan and fluid-bed coating) and the off-line three-dimensional characterisation of pharmaceutical coatings. This work was performed in close collaboration with the Research Center for Non-destructive Testing (RECENDT) GmbH (www.recendt.at). I was further involved in several research projects:
100% control of pharmaceutical tablets by means of hyperspectral imaging (HSI)

Monitoring of an extrusion process by near-infrared (NIR) spectroscopy,

Investigation of inkjet printed active pharmaceutical ingredients (API) on different substrates,

Characterisation of multi-layered tablets.

Development and implementation of process analysers for continuous manufacturing. 
Research Interests
Characterisation of Microstructures
My main interest is in combining experimental studies and theoretical models to develop a deeper insight into the mass transport mechanisms of pharmaceutical tablets. To achieve this aim terahertz pulsed imaging (TPI) and X-ray computed microtomography (XµCT) are applied for non-invasive and non-destructive analysis of the complex permeation, diffusion, dissolution and disintegration kinetics of tablets. This might be the basis for developing a science-based procedure for the design of specific drug release kinetics.
Process Analysers
The development and application of sophisticated analytical procedures in the pharmaceutical industry (e.g., terahertz imaging pulsed, optical coherence tomography, hyper spectral imaging systems). This further includes the development of multivariate data analysis and the implementation of real-time data processing procedures (e.g., machine learning, image processing), especially for process monitoring using the graphics processing unit (GPU).
Publications